Working with projects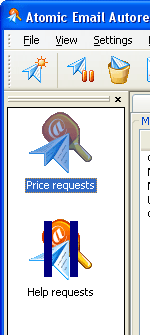 All created projects (i.e. autoresponses) are shown in the Project Bar (usually, it is located to the left). You can pause any project for a while (the Pause button
). A paused project has a different icon (like "Help requests" project on the screenshot).
The number of simultaneously running projects is not limited.
For each active project, you can see rules used in it and reports about its work in the main window. All recently sent autoresponses are displayed on the Responses tab. You can use the Rules tab to create rules according to which Atomic Email Autoresponderwill send autoresponses. Log Info contains service information about the work of the program (the report about successful and unsuccessful connections, mail check results, server responses, etc.).


Related topics: