Welcome to Atomic Email Autoresponder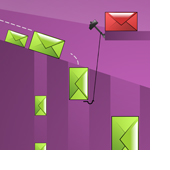 Atomic Email Autoresponder is a program for creating e-mail answering machines that can run according to specified rules and send messages on special conditions.
This software can be configured so that almost instantly after a user sends you a message, the program will analyze it and send a reply. It is you who creates an autoresponse message. It is a regular message completely supporting HTML, attachments and graphics. The message editor is identical to that of Outlook.
Atomic Email Autoresponder can be started together with Windows and run virtually invisibly for you. All you have to do is open the program from time to time to look through its reports about the last sent autoresponses.
Make friends with your customers – it pays!

Keep reading to learn more: